Routes
Stafford-Laurentian Valley loop
July 22nd, 2017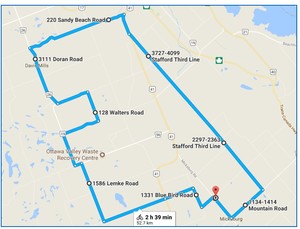 We did this 53-km loop in a bit less than 3 hours with a couple of stops. Great scenery, very little traffic. A couple of short gravel sections that were no problem for our road bikes. About 1.5 km on Highway 41, but otherwise, all was very quiet. Highly recommended.
Ottawa self-guided tour routes
From Ontario By Bike E-News: May
Make Ottawa a must visit destination on the top of your list this year. Not only is it the epicentre of Canada 150 celebrations, but it is a truly a great place to explore on two wheels. New this year and now available with online mapping and downloadable PDF's are a series of 16 self-guided rural and urban routes, enough to keep you spinning across the city for days on end.