Eganville One Hour Workout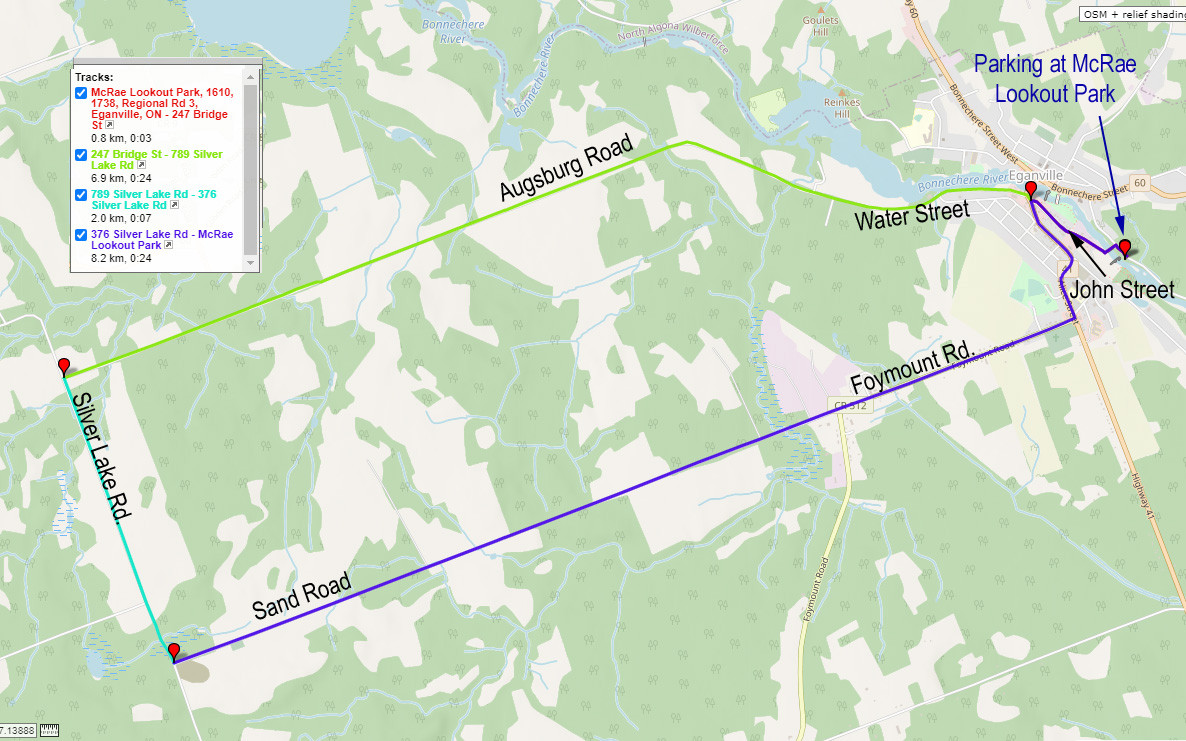 Begin your ride at McRae Lookout Park on Grist Mill Road in Eganville. It is a scenic location with easy parking. You will see some parking meters there but these are just for donations. Please feel free to deposit a few coins to support this community built and funded park.
This is ride through the rolling hills of the farm country around the Village of Eganville. All roads are paved and traffic light although Augsburg Road can be a bit busier in the early evening.
DIRECTIONS:
From the park cross over the bridge onto John Street. Ride towards the intersection and make a short RIGHT then LEFT turn onto Water Street. Stay on Water Street as it becomes Augsburg Road all the way to the churches at Augsburg.
At Augsburg TURN LEFT onto Silver Lake Rd and ride to the intersection with Sand Rd. TURN LEFT onto Sand Rd. (If you want a longer ride you can ride ahead on Silver Lake Rd. to the junction with County 512 (Foymount Rd.) and turn left onto 512 and follow it back to where it rejoins the route)
Sand Road ends at the junction with County 512 (Foymount Rd.) just outside the Village of Eganville. Stay straight ahead from sand Rd. onto 512 all the way to the stop sign at the Shell gas station at the intersection. TURN LEFT onto Hwy 41 through the village and look for the SHARP RIGHT TURN back onto John Street. Follow john St. across the Bonnechere River to Grist Mill Rd and Mcrae Lookout Park on your RIGHT.
Download a GPX Navigation File: http://www.ovcata.ca/userfiles/file/Eganville%201%20Hr%20Workout%281%29.gpx