Monarch of the Mountains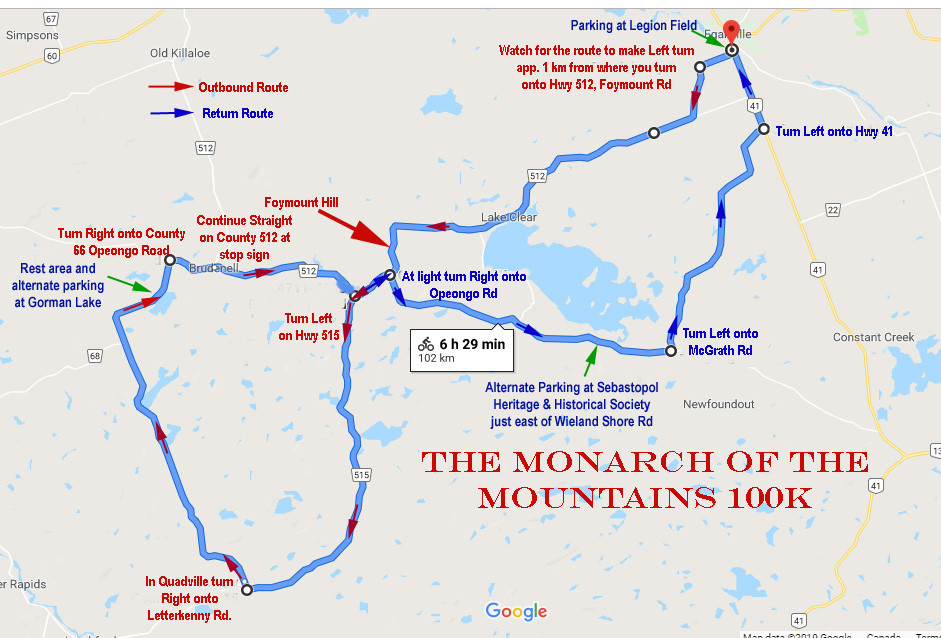 Monarch of the Mountains Map
A map of one of the toughest 100 km rides in Ontario
This is a route which we hope you will find both challenging and a great ride through countryside that was once the summer stomping grounds of the gangster, Al Capone. His hideaway was just outside of Quadeville on Letterkenny Road and maybe thinking of him chasing you down that road will motivate you through the steep climbs that you will find along the way.
This route also includes the challenge of the Foymount Hill, a 14 degree climb of 186 metres in just under 2 1/2 kms. Overall you will climb a total of 1153 metres over a distance of app. 102 kms.
Kauffeldt's Store in Quadeville should be open by 9am if you need drinks or other refreshments. There is a rest stop with a toilet on Letterkenny Road at Gorman Lake. You will also pass the hamlet of Foymount twice on this route. Foymount was once the home of CFS Foymount a radar installation that was part of the Pine Tree Line a Cold War early warning system to detect Soviet bombers. It was decomissioned in 1974 but the Hamlet still survives and is the highest settled point in Ontario.
There is a great scenic lookout on the Opeongo Rd. at the top of the hill just after you make the turn from Hwy 512 on the return leg of the route. There is a kiosk that tells of the geology of the area and describes the Bonnechere Gabin which you will follow and cross as you ride the route back to Eganville.
DIRECTIONS:
Head east on Foran St toward Hwy-41
Turn right onto Hwy-41 and ride to junction with Foymount Rd/County Rd 512
Turn right onto Foymount Rd/County Rd 512 and travel to where the route makes a sharp left turn after passing the township garage
Turn left to stay on Foymount Rd/Renfrew County Rd 512 and ride app. 20 km to Cormac where you will see Saint Anne's RC Church off a side road on your right and the steep climb of the Foymount Hill ahead on County 512
Climb the Foymount Hill! 187 m in 2 kms and 14% max grade
Head west past the flashing light at the top of the hill and stay on Foymount Rd/County Rd 512 past Foymount to the junction with Quadeville Rd/Renfrew County Rd 515
Turn left onto Quadeville Rd/Renfrew County Rd 515 and ride to app 17 kms to Quadville where you will see Kaufman's General Store at the intersection. It is your last chance to refill your water of buy an energy boosting treat before hitting the legendary hills of Letterkenny Rd.
Turn right at intersection at Kaufman's General Store and continue straight onto Letterkenny Rd. You will shortly pass Al Capone's Canadian Hideaway. It is not marked and it is private property so you will just have to use your imagination.
You will now ride about 18.5 kms through a number of tough climbs and some great scenery. This road is nicely paved with smooth asphalt. Towards the end as you come down a nice downhill glide you will see Gorman Lake on your right where you will find a portable toilet and a place to swim or rest. Ahead is the junction with Opeongo Rd. which is also called County Rd. 66 in this location.
Turn right onto Opeongo Rd./County 66 and ride to the intersection known as Brudenell where Opeongo Road continues straight ahead through the intersection but is now County Rd. 512 and becomes the Foymount Rd for some strange reason known only to the road naming gods. Whatever you call it you will stay on Foymount Rd/Renfrew County Rd 512 for about 10 km.
Pass Foymount (again)
At the flashing light turn right onto Opeongo Rd / County Road 64 (Remember to look for the kisok and scenic lookout at the top of the hill)
Stay on the Opeongo Rd to the intersection with McGrath Rd. Turn left onto McGrath Rd
Head north on McGrath Rd. for about 12.1 km to the intersection with Hwy 41.
Turn left onto Hwy-41 and ride 3.8 km to the Village of Eganville where you will Turn left onto Foran St. and finish your epic 102 km ride.