Killaloe-Brudenell-Foymount-Cormac-Rochefort-Killaloe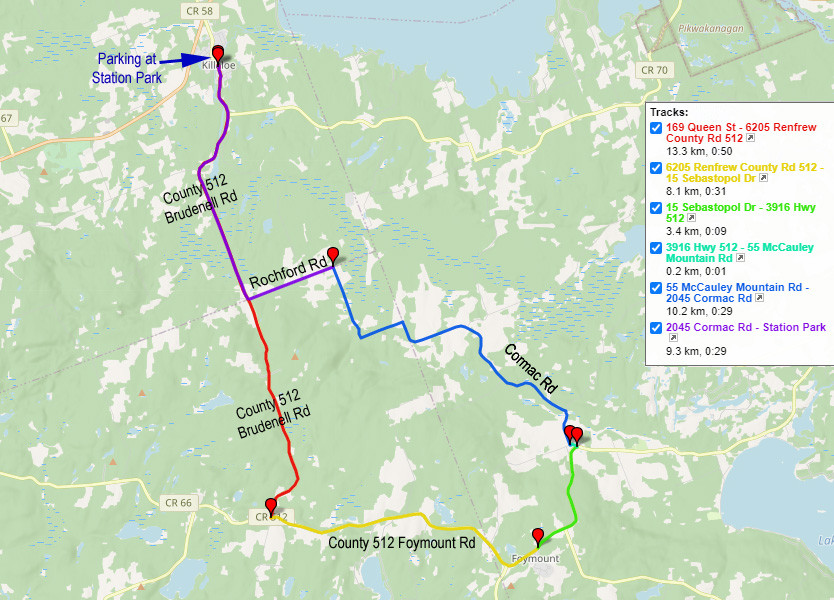 This is a 45 km route. It is hilly but very rideable for intermediate and experienced riders, full of great sights and remarkably rideable considering it goes over Foymount. Points of interest:
- Start in Killaloe, which is picturesque and full of great stores and services.
- Old Killaloe with its historic mill and general store
- It's mostly up from there to Foymount, but none of the hills require advanced strength, and the wind is often behind you.
- Foymount itself is worth the turnoff and the ride up the hill into the former Canadian Forces base for the view from Ontario's highest populated point.
- The ride down Foymount is thrilling, with wonderful views, but the pavement is poor - go slowly and carefully.
- The beautiful village of Cormac is a great place for a break, with its historic church and ballpark. The old store is a nice place to relax.
-The Cormac-Rochefort road is one of the Valley's most beautiful, with old farms, vistas and more down than up going back to Rochefort corners.
- Once you get back to County 512, it's more down than up back to Killaloe.