Tour de Lake Clear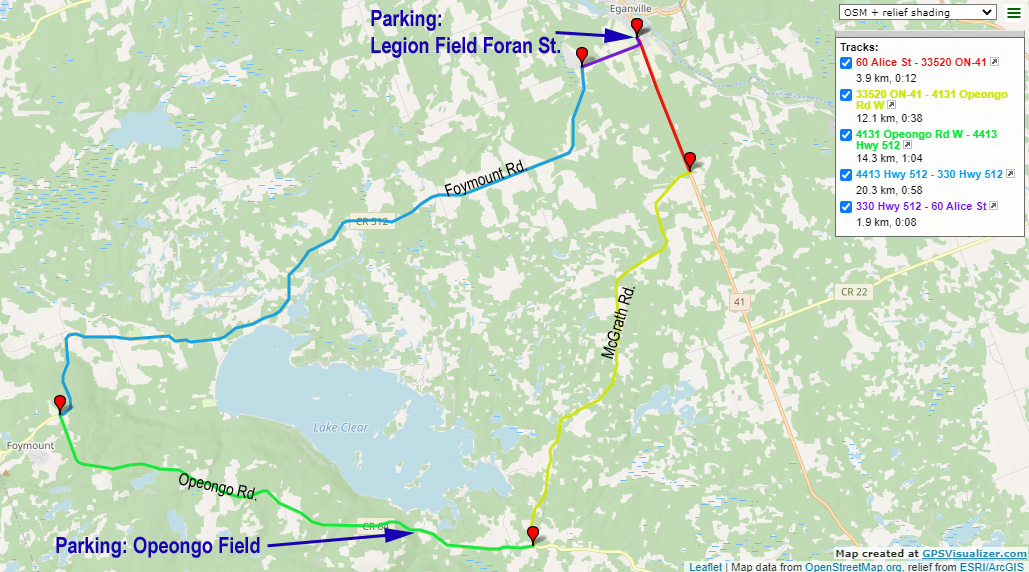 Tour de Lake Clear Map
Route map for the Tour de Lake Clear
Tour de Lake Clear
This is a 52 km ride with 1175 metres of elevation gain. All roads are paved and there is one very difficult hill no matter in which direction you ride the route.
Parking is available at Legion Field located on Foran St. just north of the junction of Hwy 41 and County 512.
Click here to download the tour as a GPX file
DIRECTIONS:
Leaving Legion Field via Foran St. TURN RIGHT onto Hwy 41 a smoothly paved road with some shoulder paving. Procede south to McGrath Road and TURN RIGHT onto this tar and stone chip paved road. The road has mostly soft rolling hills through wooded andd farm lands.
At the junction with the historic Opeongo Road, TURN RIGHT onto Opeongo Road. The road is also a stone chip and tar paved surface with little traffic. However after passing the Sebastopol Historical and Heritage Society building you will encounter the most serious climb on this route as you ascend Planunt's Mountain.
For those looking for a different starting point there is PUBLIC PARKING at Opeongo Field next to the Sebastopol Historical and Heritage Society. Also there is a public swimming area at lake Clear a short bike ride down Wieland Shore Road. (No vehicle parking in that area)
Continue on The Opeongo Road to the junction with County 512 (Foymount Rd). There is a beautiful photo and information kiosk just before this junction at the crest of the hill with a panoramic view of the Bonnechere River Valley.
TURN RIGHT onto County 512 (Foymount Rd.) and continue down the long and steep Foymount Hill. CAUTION! This is a steep downhill grade in this direction and you should carefully limit you speed. At the bottom of the hill is the settlement of Cormac and St. Anne's Catholic Church. It is the site of the annual pilgrimage to the shrine of Saint Anne.
Continue on County 512 (Foymount Rd.) to a T intersection just before the Village of Eganville. TURN RIGHT to continue on County 512 to the junction with Hwy 41 where you will TURN LEFT to return to Foran St and Legion Field and few metres away.