Bonnechere Blast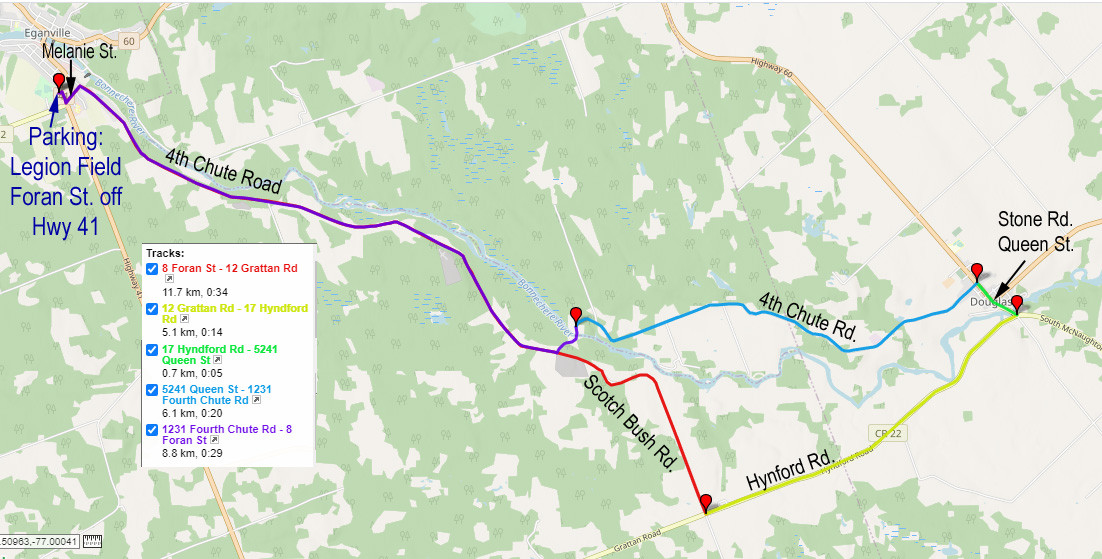 Bonnechere Blast Map

Description:
This is a 2 hour ride through gentle hills and farm land. Along the way is the quaint village of Douglas, home to the Douglas Tavern, site of the Ottawa Valley's best St. Patrick's Day parade and celebration. Further along is the 4th Chute of the Bonnechere River with its scenic falls, old mill site and home of world renowned Bonnechere Caves.
Download the GPX navigation file here: http://www.ovcata.ca/userfiles/file/Bonnechere%20Blast%20GPX.gpx
Directions:
Begin at the parking lot at Legion Field on Foran St. just off of Hwy 41 near the junction with County 512. Plenty of parking there as well as a splash pad in the summer and a farmer's market on Friday evenings.
From Foran St. TURN RIGHT onto Hwy 41 then LEFT onto Melanie St. Go a short distance downhill and TURN RIGHT onto 4th Chute Rd.
Follow 4th Chute Rd. until it becomes Scotch Bush Rd. Stay straight ahead on Scotch Bush Road to the intersection with Hynford Road in the bustling metropolis of Hynford. TURN LEFT onto Hynford Rd. and continue to the intersection with Stone Rd. TURN LEFT onto Stone Rd. Stone Rd. will become Queen St. a short distance ahead in Douglas.
In Douglas look for the Douglas tavern on your left as well as a convenience store on your right. Both are nice place to reward yourself with a beverage or a treat.
From Queen St. TURN LEFT onto 4th Chute Road for a lovely 6 km. Ride to the Bonnechere River and the location of Bonnechere Caves. Feel free to stop and take a picture of the boiling waters or take a short walk down the southern bank of the river for a view of the old mill dam site. The caves offer a great tour at a modest price and you may even be lucky enough to see Cave Man Chris lurking about.
Just past the bridge over the Bonnechere you will TURN RIGHT and follow 4th Chute Rd. back to Eganville. As you enter the village look for Melanie St. on your left and TURN LEFT onto Melanie St. A short climb up the hill takes you back to Hwy 41 where you TURN RIGHT onto 41 and then LEFT onto Foran St and the parking area.