Gearheads donates elite E-bike for OVCATA raffle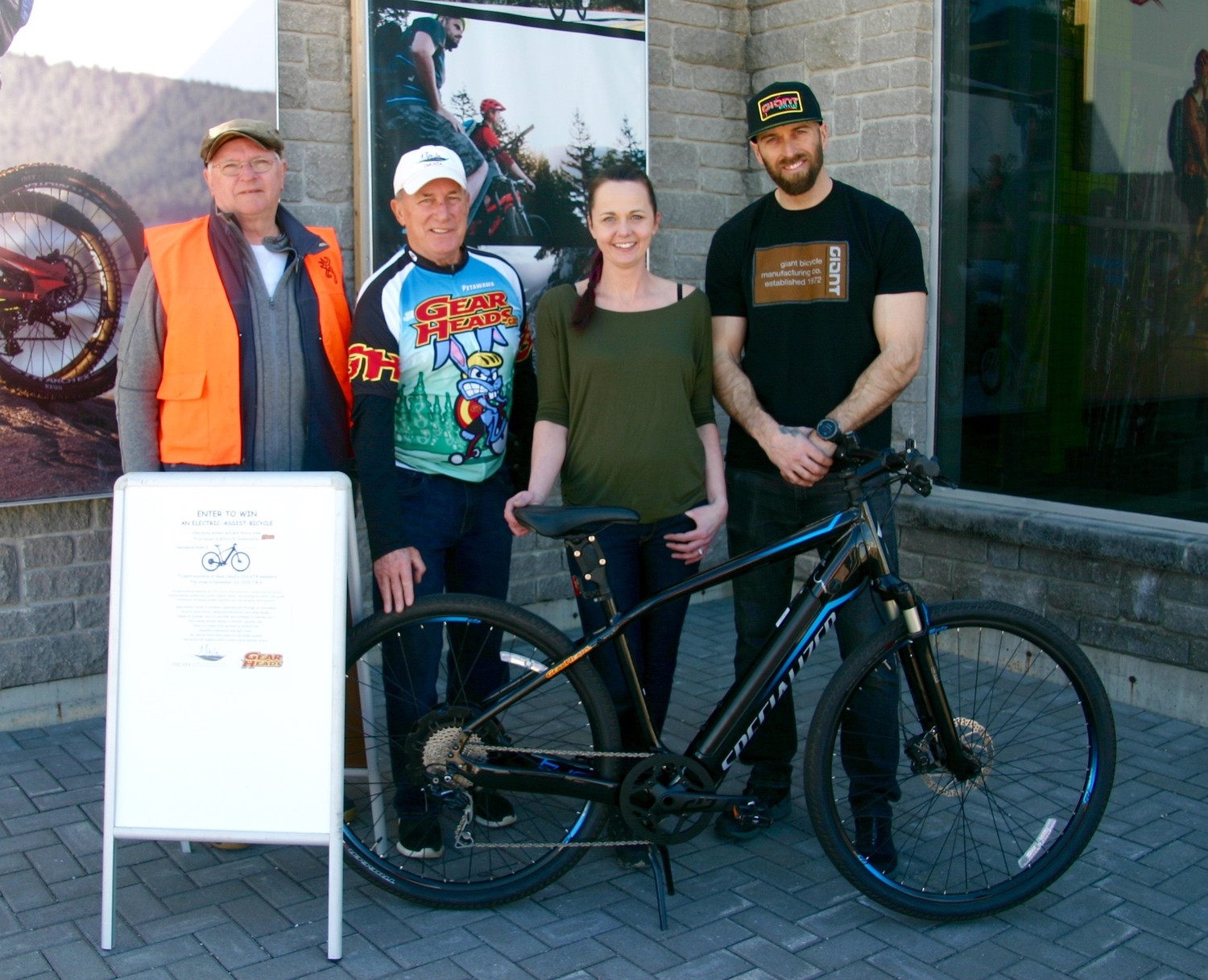 Gearheads gives OVCATA a big boost with donation of a Specialized e-bike for a fund-raising raffle. From left: OVCATA Board members Eric Price and Ron Moss and Gearheads owners Margo Johnson, Mark Johnson.
PETAWAWA: Many people don't know what an E-bike is yet, but some lucky person is going to win one in a November raffle organized by the Ottawa Valley Cycling and Active Transportation Alliance (OVCATA).
The bike, a a Specialized Turbo X e-bike worth more than $5,000 donated by Mark and Margo Johnson, owners of Gearheads in Petawawa, is being used to raise money for the OVCATA's activities promoting cycling, walking and other non-motorized transportation. Tickets for the raffle cost $5 and will be sold at Gearheads and by OVCATA at events like the Tour de Whitewater and Tour de Bonnechere and by OVCATA members. One thousand tickets were printed.
"Mark and I are both passionate about the business and we are very proud to be a part of this community," said Margo Johnson, who has owned the store with her husband since 2017. "We love biking, skiing and the outdoors. Plus we are taking care of our health and showing our kids how important it is to stay active even as an adult."

E-bikes are electrically assisted bicycles. Gearheads and OVCATA see e-bikes see them as helpful to getting people to overcome reluctance to ride. "E-bikes offer the opportunity to improve your overall strength throughout your body," said Margo. "Whether you are a long-time bike rider or someone brand new to our favourite hobby. Everything from steering, pedaling and balancing an ebike, promote stronger and healthier muscles, bones and joints. Specialized turbo/ebikes allow you to go further, faster as you rediscover the joy of cycling. The e-bike provides just the right amount of pedal assistance in any situation.
OVCATA's co-chair, Ish Theilheimer, and its secretary, Ron Moss, welcomed the donation. "The people at Gearheads are visionaries," said Ron Moss. "They have been leaders in active transportation for years in Renfrew County. We are so thankful for their generosity."
OVCATA plans to have e-bike demonstrations around Renfrew County to encourage their use. "The e-bike is a good way to get people onto bikes who were hesitant," said Moss.
A prime goal for Gearheads is "to make Renfrew County a hub of outdoor tourism in Ontario as a part of the Active Transportation Network," Margo Johnson says. "The network already provides a myriad of opportunity for cyclists of all ability to explore this incredible region in both built up and natural environments. We are also hopeful that encouraging active transportation will have a positive impact on the overall health of the community and encourage families to take part in these activities together, promoting life long habits for children to keep active and engaged in a healthy lifestyle."
April 2019
Renfrew County Council to lead on Active Transportation Month activities in June
PEMBROKE: The County of Renfrew is working with local activists to promote Active Transportation Month in June, 2019. At its April 24 meeting,...
Gearheads donates elite E-bike for OVCATA raffle
PETAWAWA: Many people don't know what an E-bike is yet, but some lucky person is going to win one in a November raffle organized by the Ottawa...
Volunteering at OVCATA - there's a place for you
Volunteers are what make OVCATA work. If you can spare a full Saturday , an hour on a Friday evening, or perhaps just some time in your home...
Highway 17 rumble strips could have fatal consequences - OVCATA
April 4, 2019 A plan to install rumble strips on Highway 17 between Chalk River and the Nipissing boundary could have fatal consequences, warns...
2018 a big year for Active Transportation in Ottawa Valley
RENFREW, November 24: Ottawa Valley Cycling and Active Transportation Alliance (OVCATA) members gathered in Renfrew for an annual meeting to...
October 2018
OVCATA meets with Ontario's new transportation minister - our own MPP John Yakabuski
June 2018
OVCATA promotes active transportation for seniors with provincial support
March 2018
Join OVCATA - Win A Bike
December 2017
Local cycle routes win big with December provincial funding!
Education is key to bike collision prevention - OPP Sergeant
October 2017
OPP to share bike collision stats at Renfrew OVCATA meeting
OVCATA Co-chair's report for 2017 - a lot accomplished in Year 1
June 2017
New provincial cycling funding could be used in Renfrew County - OVCATA
May 2017
Help Sprocketman fly! Online cycling advocacy music video
April 2017
RIDE OF SILENCE 2017
OVCATA thanks Renfrew County Council and asks for more commitment.
Voyageur Discovery Route Funding a big step toward trans-Canada cycle route.
Community Rides in communities across Renfrew County this spring
Silver Chain Challenge relaunches in June, 2017
Adopt a Road
December 2016
New hardened shoulders in Renfrew County in 2016
The Algonquin Trail - tell municipal councillors you support it
OVCATA's vision for cycling in Ontario
November 2016
Share the Road Cycling Coalition wants to hear from you
MTO Public Consultation on Cycling Program
September 2016
Véloroute Voyageur / Voyageur Cycling Route would connect Northeastern Ontario
Alliance responds to Minister Del Duca, presses for public education
Petition for cyclists and hikers in national parks
Partial lane for cyclists on Hwy 17 west of Petawawa