OVCATA launches municipal outreach campaign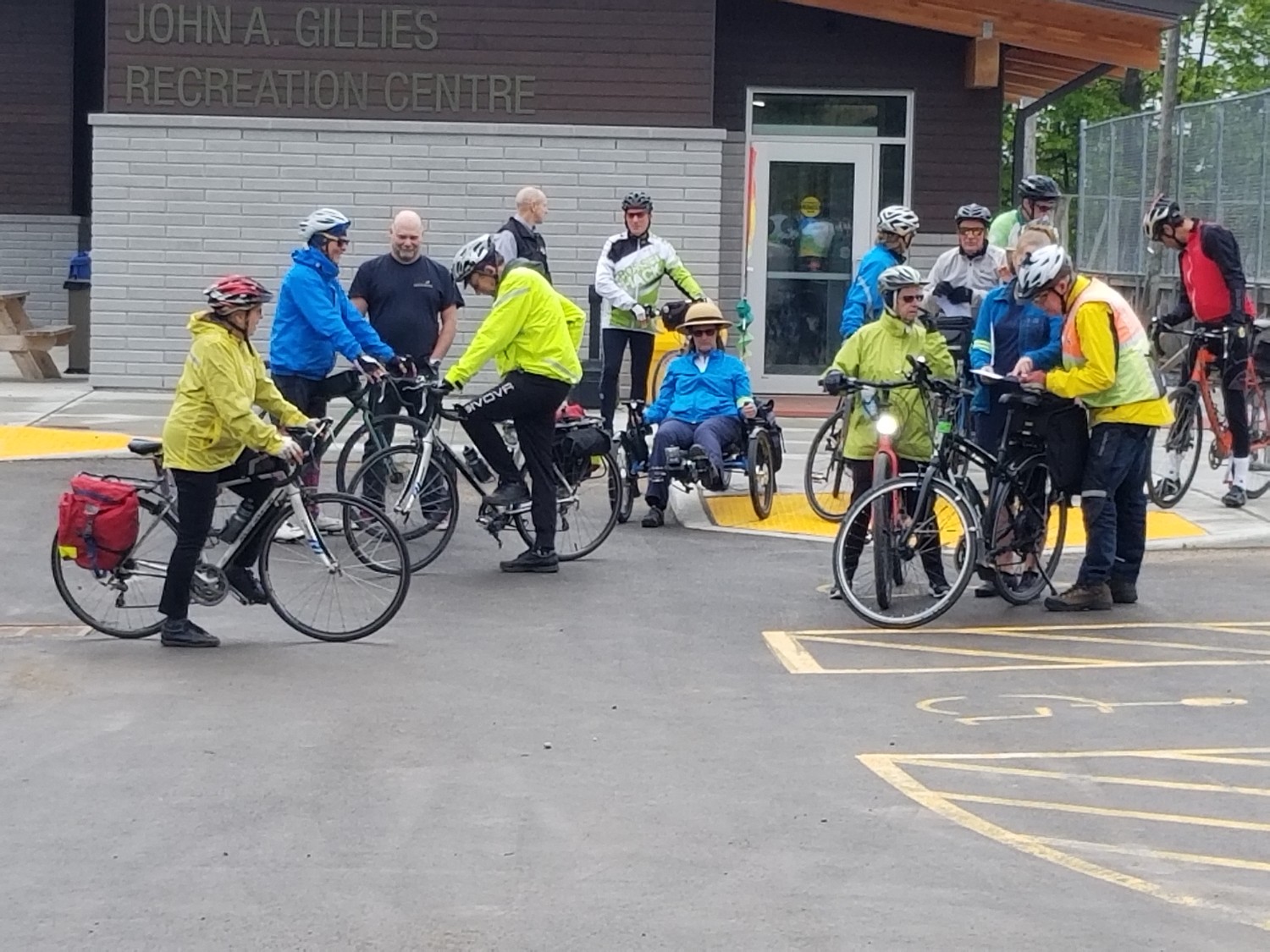 Riders and McNab-Braeside staff and councillors meet in June, 2019, as part of the Mobile Workshop reviewing the Voyageur Colonial cycling route as it passes through the municipality.
County Warden Jennifer Murphy to keynote annual meeting November 23
In fall, 2019, OVCATA members are talking Active Transportation (AT) with local municipal councils and staff, and the response they are getting so far has been "excellent."
Last June, OVCATA reps Ish Theilheimer, Ron Moss and Bob Peltzer met Renfrew County's Operations Committee in Palmer Rapids. There, they were encouraged to directly contact municipalities. So far, there have been productive exchanges with Petawawa, Pembroke and McNab-Braeside, and County Warden and Bonnechere Valley Mayor Jennifer Murphy has offered to keynote OVCATA's annual meeting at the Eganville Legion, which starts at 1 p.m. on Saturday, November 23.
"The response we have had from municipal representatives has been excellent," said OVCATA Secretary Ron Moss. "Staff and elected people have been most interested in what we've had to tell them, and in many cases, they simply hadn't had much information before about what it takes to get more people, both locals and visitors, riding, walking and getting around on their own steam, however they like, in their municipalities."
Petawawa civil engineer Dave Unrau has been in contact with OVCATA as his municipality develops its plans. The municipality has been developing a system of bike lanes and transportation routes intended to get people to work and school and to ease congestion on main arteries like Petawawa Boulevard and to take advantage of the new Algonquin Trail. Already, the municipality has twinned the trail, making one lane available to non-motorized vehicles only.
"It has been a great experience developing our plan and meeting all the stakeholders including Council, residents, parent school councils, school boards, special interest groups, merchants, etc.," says Mr. Unrau. "The feedback has enabled the Town of Petawawa council to focus on priorities and create a network that serves the needs. The funding made available through the Federation of Canadian Municipalities along with collaboration with developers has advanced the plan's priorities quicker than anticipated. There is a lot more to do, but the Town has embraced Active Transportation and I look forward to continuing with the enhancement and education so everyone feels safe."
With urging from OVCATA, the City of Pembroke has established an AT working group. The Algonquin Trail runs the length of the city, and getting users to use it conveniently to get to work, school, business and shopping presents a real opportunity, as well as a challenge in an era of budget cutbacks from central governments.
McNab-Braeside, which got approximately 70 participants in its innovative Tour de Poutine in August. This month, its Council established a committee to study and report on AT. Whitewater Region has AT on its agenda too.
OVCATA has established good rapport with Renfrew County's recently-appointed operations director, Lee Perkins. Mr. Perkins has shared the County's 20-year plan with OVCATA, and the Operations Committee, which invited OVCATA to present in June, has asked for input.
The County of Renfrew's Director of Public Works and Engineering, Lee Perkins, has considerable experience with AT from his work in large centers elsewhere in Canada. Currently, he points out, the County's Asset Management plan identifies $150,000 to be spent yearly on hardened shoulders, preferably a 1.0 metre wide. "With a number of scenic rides within the County of Renfrew borders the movement of adventure tourism has been coming to the forefront," Mr. Perkins says. "Meetings with the OVCATA on a more regular basis, sharing of planned projects and identifying key bicycle routes have allowed the County to plan ahead and request further funding for strategic infrastructure."
In recent years, the County has extended projects to include AT lanes on high profile bicycle routes including County Road 52 (Petawawa Boulevard), County Road 1 (River Road) and County Road 21 (Beachburg Road). Mr. Perkins notes that, "Increasing the paved shoulder width on roads not only provides safety for bicyclists, it also gives all residents and visitors an opportunity to become more active; i.e. rollerblades, skateboards, walking and jogging, indeed sharing the road with the motorized public.
"Meeting and working with the OVCATA has been a pleasure," he says. "Working with people who are so passionate about an issue is why I choose Public Service. I hope to continue the relationship far into the future."