2018 a big year for Active Transportation in Ottawa Valley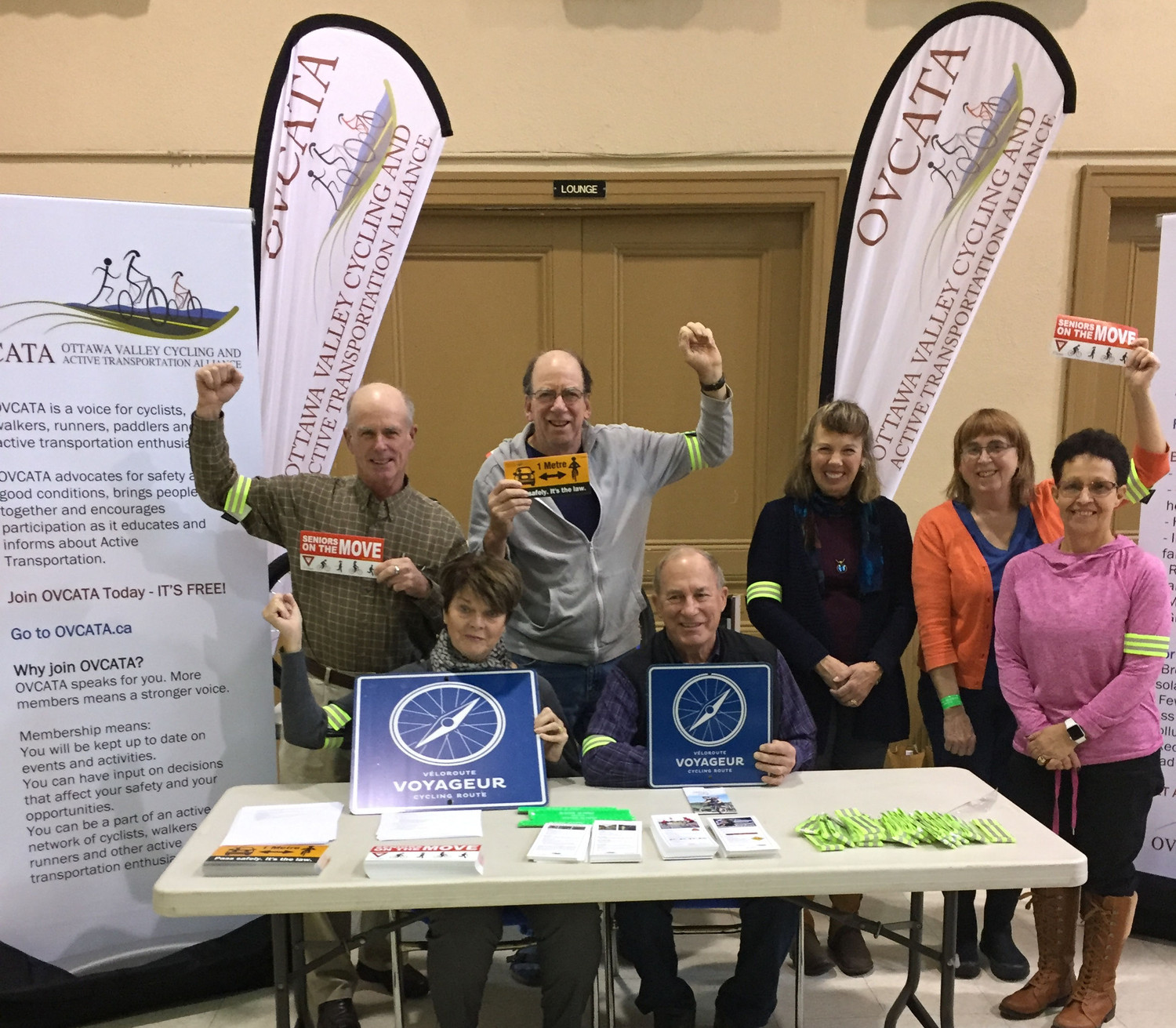 OVCATA activists celebrate at 2018 AGM wearing safety armbands - Bob Peltzer, Pat Krose, Ish Theilheimer, Debbie Fiebig, Kathy Eisner, Pat MacGregor
RENFREW, November 24: Ottawa Valley Cycling and Active Transportation Alliance (OVCATA) members gathered in Renfrew for an annual meeting to celebrate a busy and very successful year. The organization was founded two and a half years ago to be a voice for cycling, walking and other self-powered transportation enthusiasts.
Membership in the organization has grown quickly, from 180 last year to 433 now, and local governments have cooperated in many ways to enhance cycling and walking safety and opportunities in the County.
"We're here because Active Transportation matters," said OVCATA co-chair Ish Theilheimer. "The more people we can get moving themselves around on their own power and out of cars, the better we'll all be. People will be healthier and happier. Governments will spend less on health care and road-building. And, of course, every kilometre not driven in a private vehicle is a positive step toward preserving our very-much-endangered environment."
"We have many people to thank for our progress," said Theilheimer. He singled out Yantha Cycles for the donated bike, the Westmeath District Recreation Association for the donation of funds from the Tour de Whitewater, the Government of Ontario for funding programs OVCATA ran, and the County of Renfrew, as well as Whitewater Region and its former Mayor Hal Johnson for meeting space. He conveyed greetings from MPP John Yakabuski, who had hoped to attend and with whom OVCATA's table officers met in September. Mr. Yakabuski has been a supporter of OVCATA from the outset, he said.
OVCATA Secretary Ron Moss reported on a range of accomplishments and activities over the past year. One of his many involvements has been heading up planning for the Voyageur Cycling Route, which will provide cross-Canada cycle tourists with a safe east-west route from North Bay to Ottawa. A big part of this plan involves the Algonquin Trail (former CP Rail line), which OVCATA has been a strong advocate for and which is now moving toward completion.
He also reported on OVCATA's involvement with the Tour de Whitewater, based in Westmeath, and the Tour de Bonnechere, based in Eganville. Organizers of both events have asked OVCATA to become a partner next year and to take a lead organizing role, and OVCATA activists have responded positively.
Kathy Eisner reported on the Renfrew County Seniors Active Transportation program, which she organized on behalf of OVCATA with funding help from the Ontario Ministry of Seniors Affairs. Through the program, OVCATA visited seniors in ten Renfrew County Communities to promote cycling and walking and discuss the obstacles that keep seniors from participating more in these healthful activities. The funding helped pay for the publication and distribution of safety information, safety armbands, and a "Seniors on the Move" bumper sticker to promote awareness and encourage participation.
One of the ways OVCATA grew in 2018 was by raffling off a bike donated by Yantha Cycles in Pembroke to new members and existing ones who put in for the draw. A total of 222 people entered the raffle. The winner, announced by Membership Chair Eric Price, was Shirley Beatty, of Pembroke.
A new Board of Directors was acclaimed by the meeting, including Debbie Fiebig, Patricia Krose, Ron Moss, Eric Price, Andris Kalnins, Pat McGregor, Bob Peltzer, and Ish Theilheimer.