Citizens partner with County and OPP to make trails work for all despite pandemic - OVCATA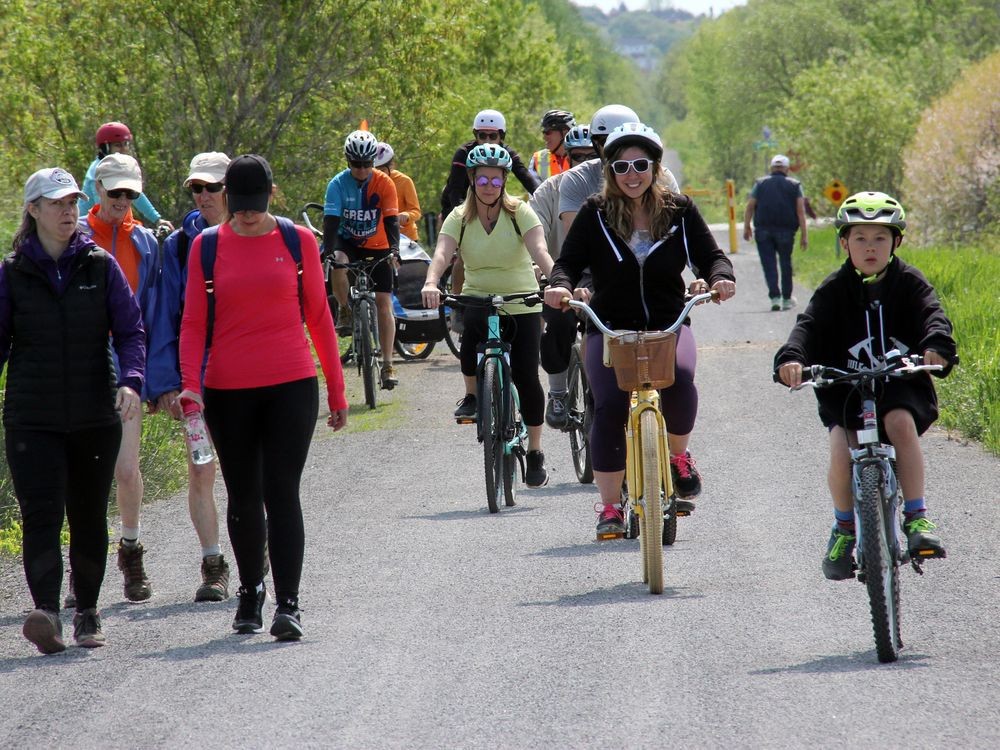 The Algonquin Trail attracts a variety of users. (Photo: Pembroke Observer)
News release from OVCATA, April 30, 2020
April 30, 2020: Local citizens are working with Renfrew County staff and the OPP to make all County trails, especially the new Algonquin Trail, safe and pleasant for everyone who uses them. Those who don't get the message risk police charges.

The Algonquin Trail, the former CP Rail line, which the County is converting to a recreation trail with links to a network of trails that cross Canada, is being opened as a multi-use trail for shared use by walkers, runners, cyclists and ATV riders.

Local people need to make an effort for shared use to work, according to the Ottawa Valley Cycling and Active Transportation Alliance (OVCATA) especially during this COVID19 pandemic and the need for social distancing.

"The Algonquin Trail is an exciting new idea in the County, and in some areas, it is already in heavy use with people doing a good job of sharing it and keeping their social distances," according OVCATA Secretary Ron Moss, of Pembroke. "The Pembroke-Petawawa section is a great example of this, with all kinds of people out on the trail and respecting one another pretty well. The trail surface there is generally in good shape."

To make the Trail work, Mr. Moss says users need to know the rules and must obey all posted signs. Motorized vehicles must obey posted speed signs and slow down when encountering all trail users. All users must stay on the trail and not trespass on private properties. Dirt bikes and motorcycles are not permitted on the trail. "Careless drivers of motor vehicles intimidate walkers and cyclists, damage the trail and create a very poor image for motorized sensible riders," he said.

All users need to be clear on their responsibilities, he said. Dog walkers need to keep pets under control and on leash, clean up after them, and dispose of bags properly - which is not always done, according to County staff. Horseback riders must clean up after their horses too. And during the pandemic period, cyclists should maintain physical distancing and avoid riding in groups.

OPP officers have been on the trails issuing warnings to some users and charging others for trespassing and off-road vehicle offences.

"Trails are an important asset to allow the public to refresh in the outdoors during these stressful times. The County and OPP want to make the Algonquin Trail and all trails work for everyone," said Mr. Moss. "They need the public's help to make that happen. If you are aware of problem users on the Trail, please make a call." The OPP number is 1-888-310-1122. Renfrew County's Trails department can be reached at (613) 735-3204 ext. 463 or, Toll Free: 1-800-273-0183.

"Everyone needs to feel safe on the trail if it is going to be a success in helping people be active and healthy and in attracting visitors to our area," said Mr. Moss. "Let's all do our part during these challenging times."