Renfrew County Council to lead on Active Transportation Month activities in June
PEMBROKE: The County of Renfrew is working with local activists to promote Active Transportation Month in June, 2019. At its April 24 meeting, County Council heard from Ish Theilheimer, co-chair of the Ottawa Valley Cycling and Active Transportation Alliance
(OVCATA) about four planned activities on which the County is taking leadership.
The activities include the Silver Chain Challenge, the online competition between counties and municipalities to see whose residents can log the greatest distances biked, walked, or run. Mr. Theilheimer met with the county's emergency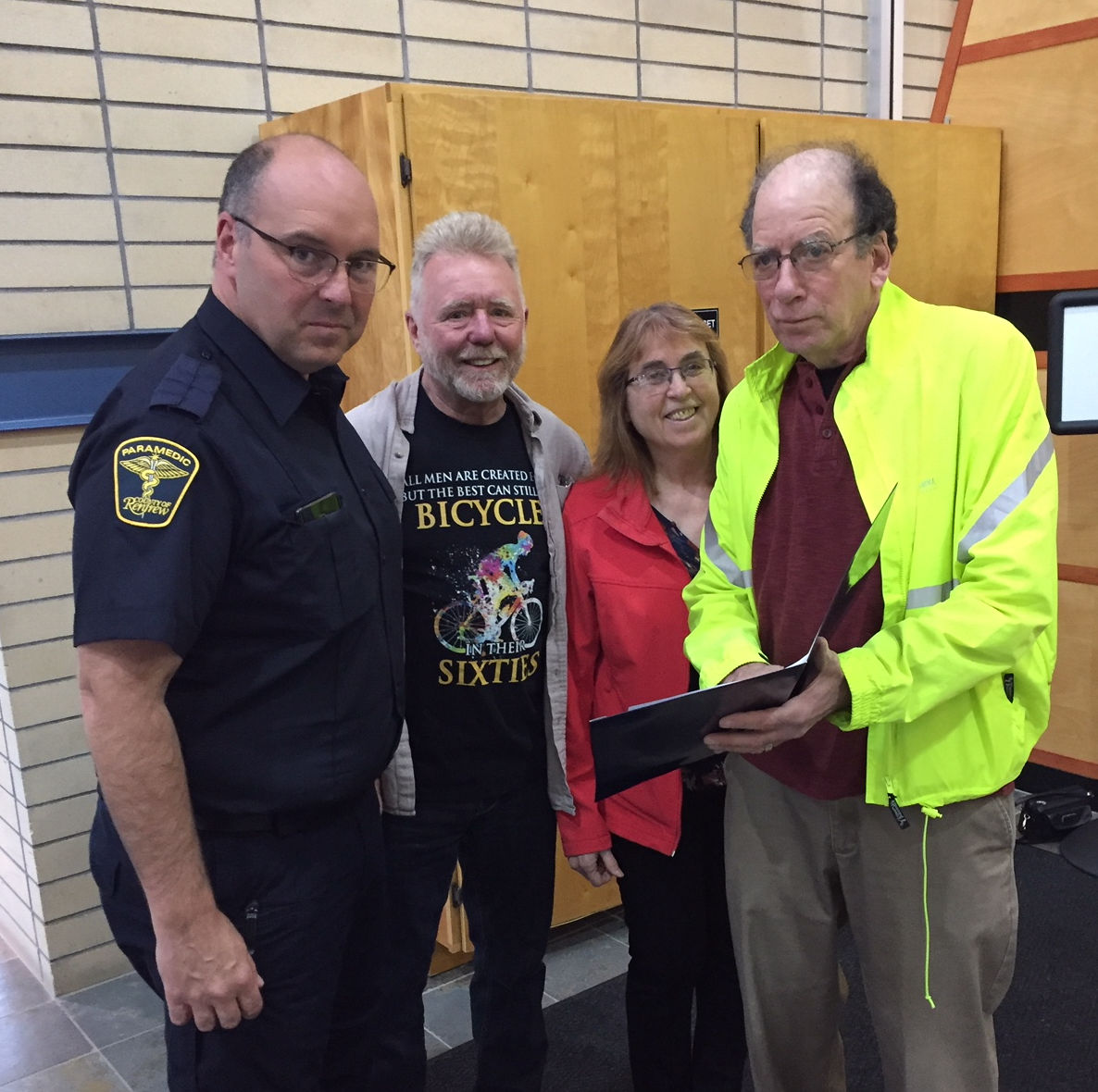 services chief Mike Nolan last January and later with Warden Jennifer Murphy to brainstorm about how to build on the success of that to get more people moving on their own power in the month of June.
The first activity will be a mass County Council bike-and-hike event on the Algonquin Trail immediately following the May 29 Council meeting.
"Mike Nolan and Warden Murphy were unbelievably enthusiastic about getting the political leaders involved," said Mr. Theiheimer. "Getting them out there on bikes or in walking shoes will help them understand the benefits, the fun, and the issues involved with active transportation.
The event will begin at Algonquin College with bikers and hikers heading west. The trail, in that section, is complete to Petawawa, so participants can go up to 40 km. there and back if they chose. OVCATA will make loaner bikes available, both to politicians and to others who want to participate. Anyone can take part. The event will start around 3 p.m.
Another activity for the month is the Mayor's Challenge. Warden Jennifer Murphy has challenged each of the mayors in the County to organize community bike-and-hike events on dates of their own choosing to see which mayors can get the most people out moving.
The final activity of the month is Community Seniors' Bike-and-Hikes. County and OVCATA are encouraging municipalities, through their recreation staff and committees and local seniors' organizations, to organize events specifically for seniors in June.
Mr. Theilheimer encourages people who want events in their municipalities to contact their own township council members and staff as soon as possible, since June is not far off. OVCATA too will be contacting municipalities across the County and offering help and support for local events.
"Active Transportation benefits everyone in terms of better physical and mental health, less pollution and less road use," he said. "It's great to see people like Warden Murphy, Mike Nolan and County Councillors taking the lead in promoting it."
In the photo, County of Renfrew Emergency Services director Mike Nolan and OVCATA activists Chris Hinsperger, Kathy Eisner, and Ish Theilheimer go over plans for Active Transportation Month before the Council meeting.