Petawawa Bike-Friendly Communities champion to speak to OVCATA 2020 AGM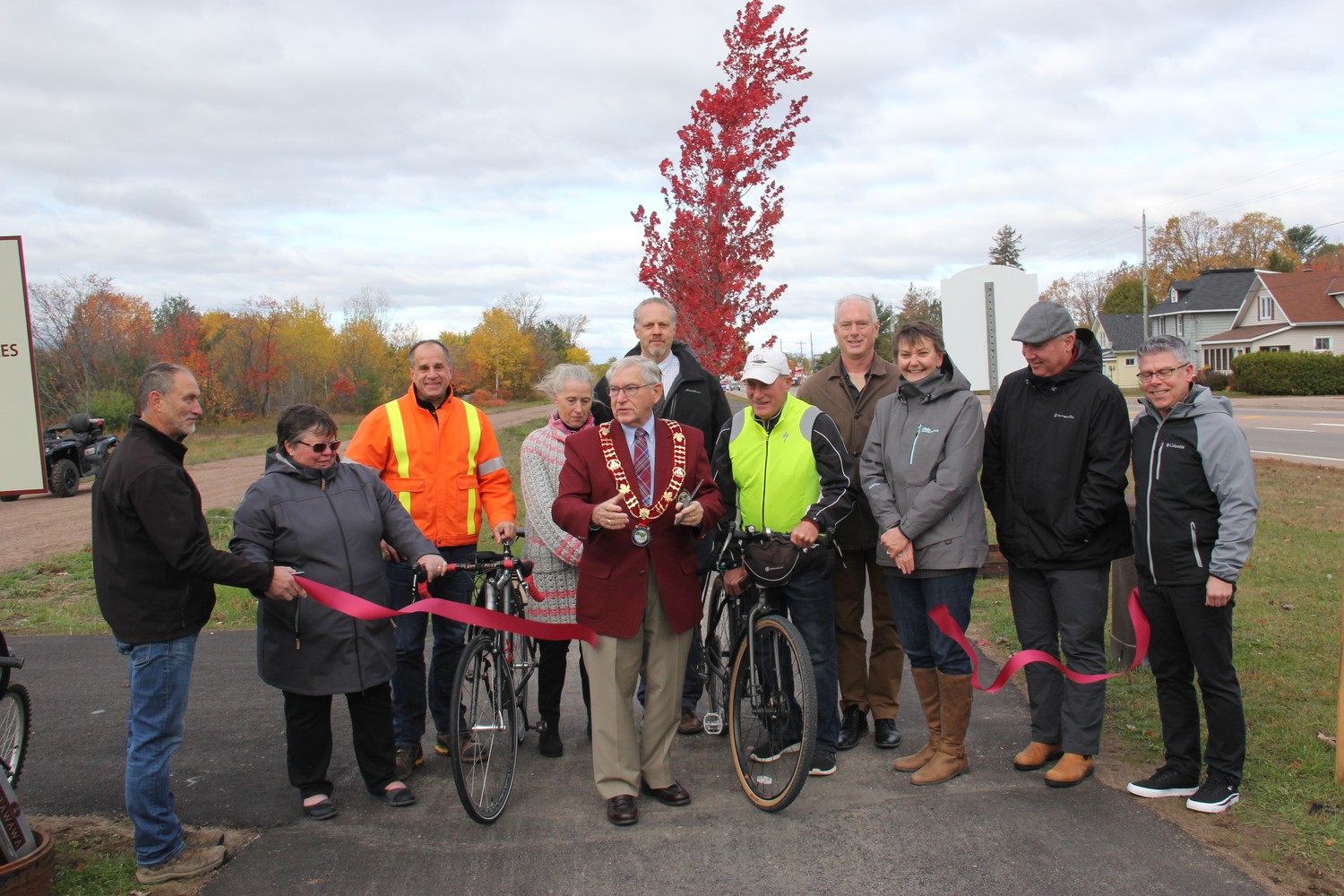 Official ribbon cutting in October, 2019 marked the opening of a twinned section of the Algonquin Trail through the urban commercial core of the Town of Petawawa. Members from the various groups involved in the trail attended. In the photo from left, Mark Reinert, Petawawa parks and recreation facilities supervisor, Sheila Clarke, Petawawa Accessibility Advisory Committee member, David Unrau (Petawawa public works director), Laura Lapinskie, constituency assistant to MPP John Yakabuski, Petawawa Mayor Bob Sweet, Jason Davis, manager of forestry and GIS services with Renfrew County, Ron Moss, Ottawa Valley Cycling and Active Transportation Alliance (OVCATA) secretary, Petawawa Councillor James Carmody, Dana Lawson, Garrison Petawawa Personnel Support Programs (PSP) health promotion manager, Kelly Williams, Petawawa community services director, and Petawawa CAO/clerk Dan Scissons. Photo by Anthony Dixon, Pembroke Observer, with permission.
Bike-Friendly Communities is the theme of the 2020 annual meeting of Ottawa Valley Cycling and Active Transportation Alliance (OVCATA), which takes place online only via Zoom technology on Thursday, October 29 at 7 p.m. Guest speaker, Dave Unrau, knows a lot about the subject. Dave is Director of Public Works in the Town of Petawawa as well as an active volunteer with OVCATA.

Dave, who wasn't an active cyclist before becoming involved in the process, has spearheaded the process of making his town bike-friendly.
The Town officially started the journey in December 2017 when the Town
received funding under the Ontario Municipal Commuter Cycling Program. There was, however, a lot of cycling activity in the community, with many young families and
the Garrison Petawawa. Through the initial funding program and with
partnership from Green Communities Canada, Clean Air Partnership, Share the
Road, Renfrew Country Health Unit, OPP, County of Renfrew, RCDSB, RCCDSB and
other stakeholders the Town has been able to accomplish many things including:
- Completion, with provincial funding help, of an Active Transportation plan
- Construction of paved multi-use pathway (MUP) paralleling the Algonquin Trail
- A multi-use pathway constructed along Civic Center Road
- Hardened shoulders throughout the Town for any new road construction
- A Share the Road Canada bicycle-friendly community workshop was held in Petawawa, which has been designated a bicycle-friendly community.
- Establishment of the Safe School Travel Working Group
- Education and encouragement programs in area schools.
"There are many reason to start creating a more friendly active transportation network, from a healthy community to reduced GHG," says Mr. Unrau. "But through the pandemic it reinforced the fact that it is the right decision when the MUP's were full (properly distanced) and enjoying healthy living."
"The cost to implement this strategy is minimal and is more about creating a culture for the community."
Municipal and County staff and political leaders from across Renfrew County have been invited and many will be attending. To receive a meeting invitation and a link to the meeting, members of the public can send an email to info@ovcata.ca.