Arnprior brainstorming session will plan how towns can cash in on cycle tourism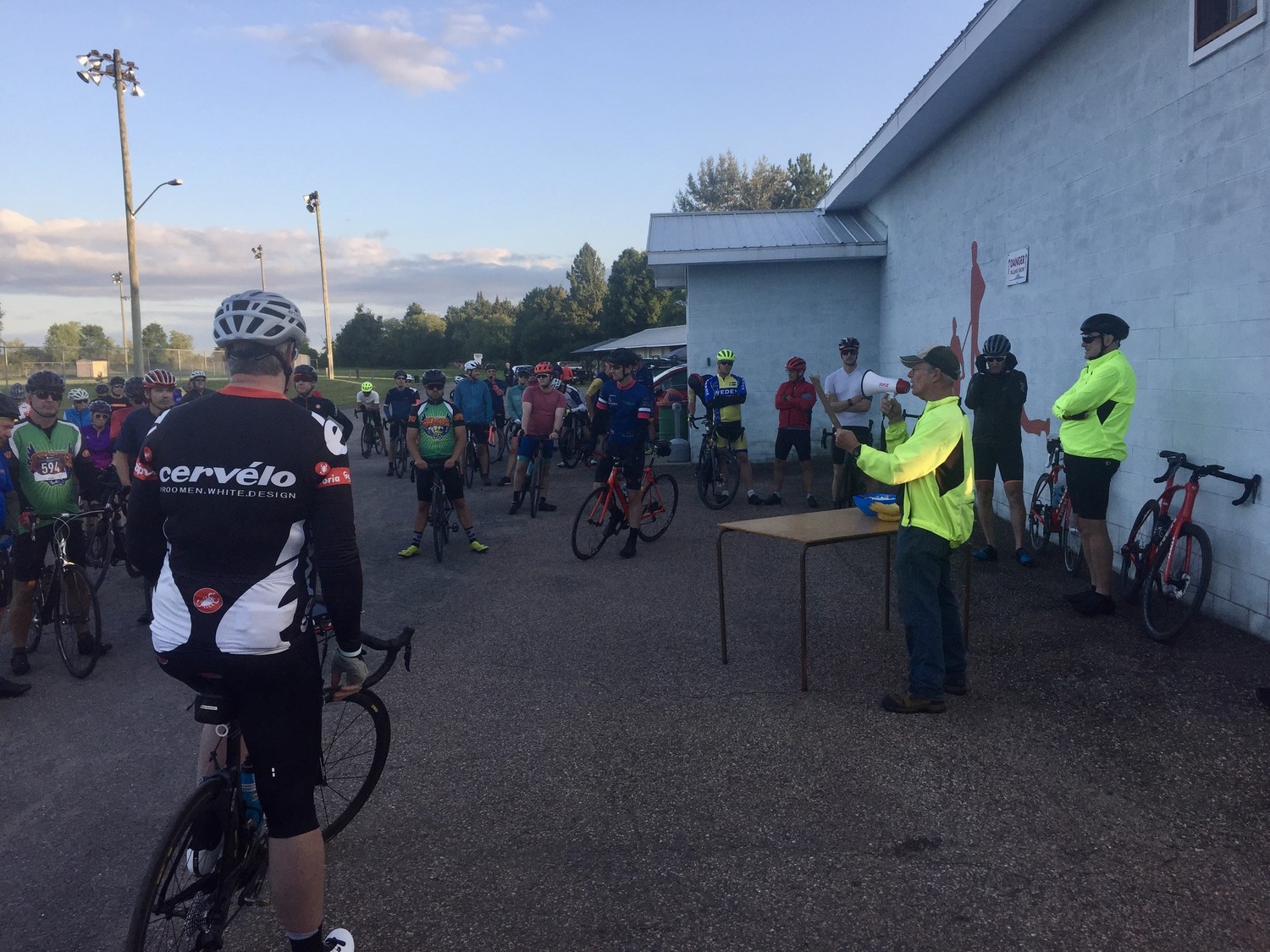 Bob Peltzer, who lives near Eganville and is shown here briefing riders in the Tour de Bonnechere cycling rally last month, has ridden many popular rail trails in the US, Canada and around the world and is a big promoter of the Trail Towns concept.
ARNPRIOR: A unique group of local business people, tourism operators, cycling advocates, and municipal leaders from Renfrew and Lanark Counties plan to meet to discuss how towns along the Ottawa Valley Recreation Trail/Algonquin Trail can maximize economic benefits of the trail, which was created along the former CP Rail line. On Wednesday, September 13, the group will host a meeting at the Nick Smith Centre from 9:30 a.m.to 2 p.m. to discuss the potential of the Trail Town concept for cycle tourism.
The event is being organized by the Ottawa Valley Cycling and Active Transportation Alliance (OVCATA) and Mississippi Mills Bicycle Movement (MMBM).
"I've ridden a lot of rail trails in The U.S., Canada and elsewhere," says OVCATA director Bob Peltzer, who lives near Eganville. "If you ride the Allegheny Trail, for instance in Pennsylvania, you see one small town after another that has been rejuvenated by tourist traffic coming off the trail. Restaurants, B&Bs, hotels, bars, galleries, bakeries, groceries, and theatres have all benefited."
Mr. Peltzer has been promoted the concept of trail towns and encouraging municipalities and businesses to take the kind of small steps like erecting signage and public washrooms and getting out word that can lead to a good deal of business. "That's the purpose of our conference – to bring people together to brainstorm, plan and form alliances."
Jeff Mills of MMBM is equally enthusiastic about the project. " This summer, there have been more and more cyclists in the Valley enjoying an ice cream,
coffee or sticky bun, gathered to have a bite or snapping photos of our wonderful small towns and villages. Cyclists are having fun — and spending money — in the Ottawa Valley," he says. "Strong, resilient communities are ones where diverse groups come together, then work together for the common good. They approach tasks from an 'abundance' perspective — one that assumes we already have what we need if we recognize our existing assets and work together to leverage the gifts of our citizens."
The asset under discussion is the Ottawa Valley Recreation Trail/Algonquin Trail, a jointly owned community asset, that, at forms a 300k backbone trail connecting communities from Smiths Falls through Lanark County north through Renfrew County all the way to Mattawa and Papineau-Cameron Township. This community trail lends itself as a spine for a series of regional loop trails, offering the potential to build healthy, active and economically sound communities.
Featured presenters at the conference include Louisa Mursell of Ontario by Bike, Jennifer McCourt of Discovery Routes/Voyageur
Trail, Brenda Wood for Trent-Severn Trail Towns and Bob Peltzer.
"You may own an ice cream stand, perhaps a restaurant, bakery, chip truck, inn or bed and breakfast," says Jeff Mills. "Perhaps you run a bike shop, or hotel; you may curate a local museum, coordinate a farmers' market, or be a member of a chamber of commerce. You might work in tourism, for a municipality or a county, or sit as a council member. Maybe you're someone who just loves to explore the riches of Lanark, Renfrew and Frontenac from the seat of your bike! All are welcome and encouraged to join in the conversation about how we can work together, using cycle tourism to build stronger communities in our part of the province.
For more information on Trail Towns the group has created a short, teaser video which can be viewed here:
For a detailed webinar on Trail Towns, you can find a 30 minute video here: