Bike Bank reaches 100-bike milestone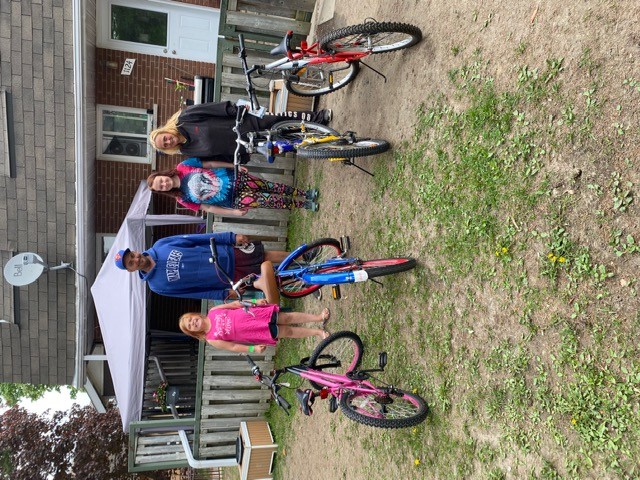 In Pembroke, Tina Panke and family receiving bikes from Bike Bank on May 20.

PEMBROKE: A few months after coming up with the idea, volunteers with the Bike Bank are celebrating because, together, they have collected, restored and given out 100 bikes in Renfrew County to people who needed them.
The Bike Bank was set up by the Ottawa Valley Cycling and Active Transportation Alliance (OVCATA) out of concern that a lot of people who really could use a bike just can't afford one. Bike Bank receives requests for bikes and offers of used ones ones through its website, BikeBank.ca. Donated bikes are thoroughly restored and checked for safety, and then they are matched up with people who ask for them and, in most cases, delivered to their doors, and it's all done by volunteers.
"I recieved bikes for my two older children," said Amanda Fraser, of Renfrew. "My children are disabled and I was able to teach my 11-year old daughter how to ride a bike this year. I am grateful for the bikes it gave her a chance at learning to ride and my son too. My daughter is grateful and has been riding all summer practicing around the house. It gives her some independence and something to be proud of herself for."
Bike Bank is the brainchild of OVCATA Co-chair Pat Krose, of Forester's Falls. "We know how important bikes are to people. They get you where you want to go and make you feel good and healthier in the process," she says. "We are just a small group, about ten people altogether who do most of the work, and the logistics of getting it going were a bit complicated, but it has proven to be very worthwhile, both for those getting bikes, and also those giving them away, knowing their bikes will be valued by their new owners."
OVCATA's other co-chair, Ron Moss of Pembroke, is also one of Bike Bank's two main mechanics. He works closely with Adam Yantha, of Yantha Cycles, and a couple of other volunteers who do a lot of picking up and delivering of bikes. "I'm very pleased with the number of kids we've helped, both individually and through the Pembroke Boys and Girls Club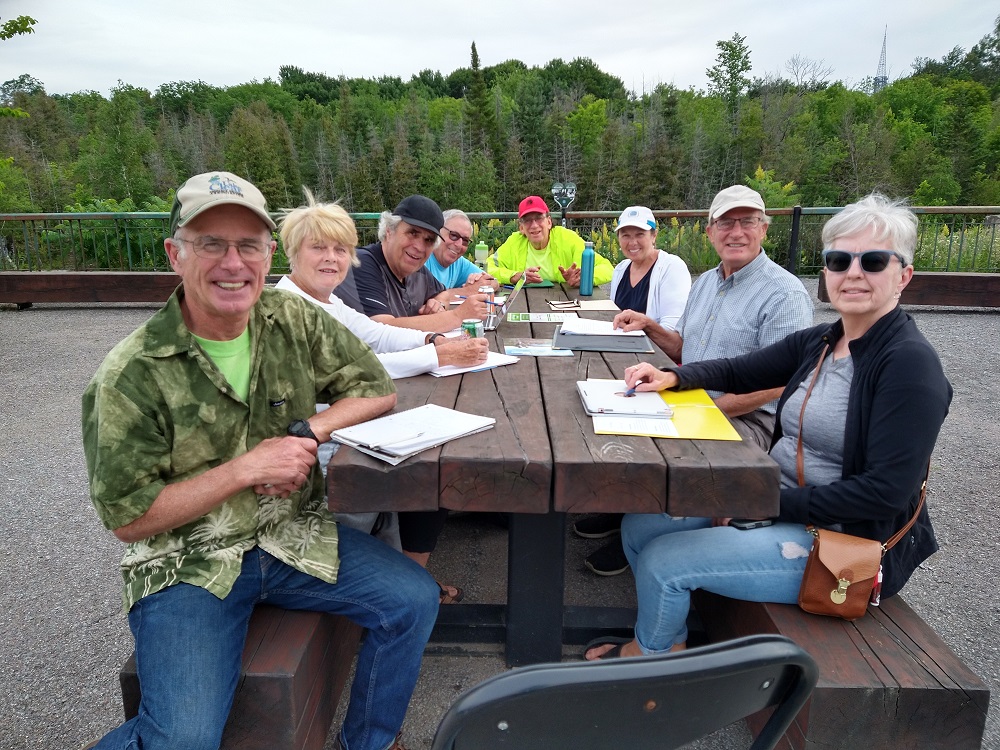 . We expected to give out a lot of kids' bikes. But we were also a bit surprised by the strong demand for adult bikes." More than half the bikes distributed have been for adults, with lots of women requesting bikes. "Cycling may be less widespread in our rural area than in urban ones, but the demand for bikes shows how important bikes are to people here too."
(In the photo, OVCATA volunteers Bob Peltzer, Pat Krose, Andy Kalnins, Larry Warden, Ish Theilheimer, Debbie Fiebig, Ron Moss and Debbie Macdonald discussing their Bike Bank at McRae Park in Eganville.)
A Renfrew man who received bikes for his family from Bike Bank wrote, "Getting bikes donated to me helped me find new ways to bond with my daughter and wife," he told Bike Bank. "It gave us new places to go and explore and allowed us to feel good doing it, instead of driving vehicles. We use our bikes at least twice a week together. I personally try to ride mine at least 30 minutes a day for the exercise and to take a break from working at home. The Program is great, it helps people who can't afford bikes get a new way of transportation and exercise. I'll definitely be returning my bicycles if I upgrade and finding any other way to donate when possible. Thanks so much for helping us find new ways to spend time together."
Kyla Sullivan, of Wilno, is a big Bike Bank fan. She wrote, "My son Benjamin has grown a lot since last summer and we knew that his old bike would no longer be a good fit. We wanted to give him the opportunity to ride a bicycle and exercise with his family, especially during COVID. I'm happy to say that he has been riding it regularly on our street and he definitely takes pride in its care. We were so impressed by the quality of the bike, and the time taken by the bike bank volunteer to deliver it. I was touched when I saw the BB volunteer take out a cloth and even give it one last polish right there on our driveway before encouraging Benjamin to try it out. It made his day and mine. Thank you very much for making the experience feel empowering. It was apparent to both of us that not just time, but a lot of love goes into the program."
Bob Peltzer, another OVCATA director, lives on Lake Clear, where he has refurbished the majority of Bike Bank's bikes. "We use a 20-point checklist to ensure all bikes are safe and in good condition," he says. "Finding parts, with the supply chain stretched by the pandemic, has been a challenge."
To date, Bike Bank has cost about $2,000 in parts and insurance. "That works out to almost $20 per bike," says Ron Moss. "We're hoping to raise some of that money from local service clubs and the rest from local people." You can make a donation in support of Bike Bank here.
To offer a bike, send an email to BikeBank@ovcata.ca. To request one, go here and fill in the online form.
Bike Bank is now winding down for the season, as its volunteers need time to get out and ride and the number of requests and donations, which was quite heavy in Spring, is tailing off. It is still accepting requests and offers, but the volunteers expect less activity until next Spring.