County of Renfrew and OVCATA celebrate expansion of cycling networks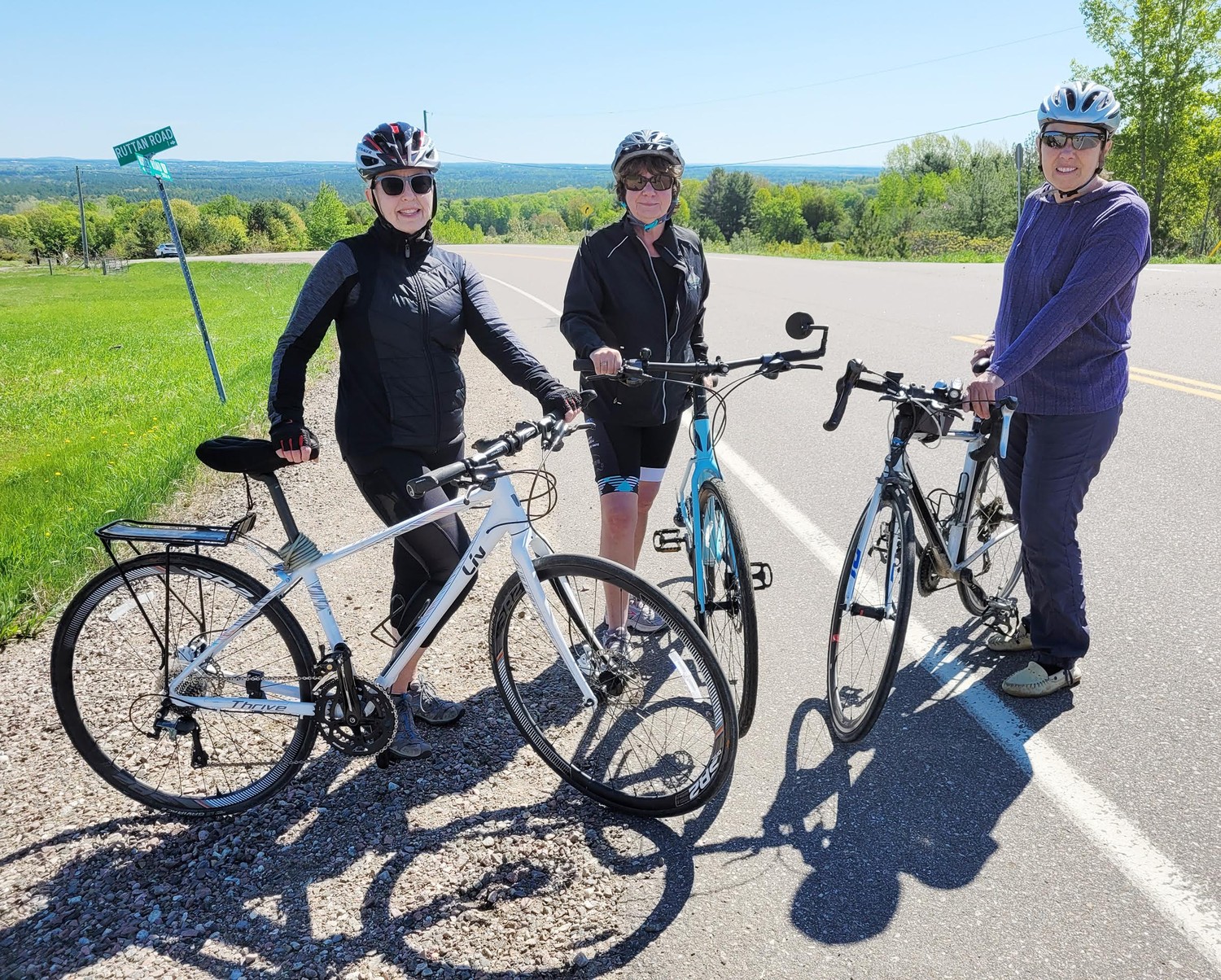 "The Three Debbies" celebrate the expansion of Renfrew County's network of roads with paved shoulders. From left, Debbie MacDonald, OVCATA director-at-large, Debbie Robinson, Warden of Renfrew County, and Debbie Fiebig, Treasurer of OVCATA.
May 20, 2022: The network of cycling-friendly roads in Renfrew County is expanding steadily, thanks to work being done by the County of Renfrew and local municipalities. A new online map enables cyclists to better identify the County's improved infrastructure.
With 816 kilometres of roads and a tight budget, the County is working on a year-by-year basis to expand and make its roads safer to ride. Currently, 242 kilometres of its roads have hardened shoulders. Most of these have been added in the past five years or so. This year, the County expects to add hardened shoulders to 24 more kilometres of its roads.
"The County of Renfrew is committed to safer roads for everyone and encourages active transportation and cycle tourism," says Renfrew County Warden Debbie Robinson. "There has been a big increase in cycling in Renfrew County. Residents
want the health benefits, recreation and transportation cycling offers, and we know cycle tourism can create a lot of business and jobs. We want to encourage it, and we are moving forward with it as quickly as possible."
The online map of roads with hardened shoulder can be found on the County of Renfrew website.
Ron Moss of the Ottawa Valley Cycling and Active Transportation Alliance (OVCATA) is pleased with the progress he sees. Much of it, he says, traces back to planning work that active transportation volunteers did in cooperation with
County staff about 10 years ago.
"We created a 'matrix' of the County's roads, identifying a priority order for road improvement. We wanted to create a cycling network in the County. Although we still have a long way to go, we are really excited to see the progress being made. We realize Renfrew is Ontario's biggest county so it can't all happen at once, butit's happening, and we're pleased."
At the same time, many area municipalities have made big strides, he says, in improving their own cycling networks. He praised the Towns of Renfrew and Petawawa and the City of Pembroke for making real progress in developing
infrastructure "Several rural townships including Bonnechere Valley, Laurentian Valley, Madawaska Valley, North Algona Wilberforce and Whitewater Region have made real progress too," Moss adds.
The Province of Ontario, he says, is also beginning to recognize the wisdom of hardened shoulders. "Paved shoulders not only encourage lots more people to get out safely on bikes, but they also make roads safer for drivers and reduce road maintenance costs" Moss notes.
Currently, the Province is renewing Highway 60 between Wilno and Eganville with paved shoulders. OVCATA is in the process of creating an online map that will show all Provincial County and municipal roads that are good for cycling.