County municipal leaders and staff hear how Petawawa is becoming a Bicycle-Friendly Community "one bite at a time"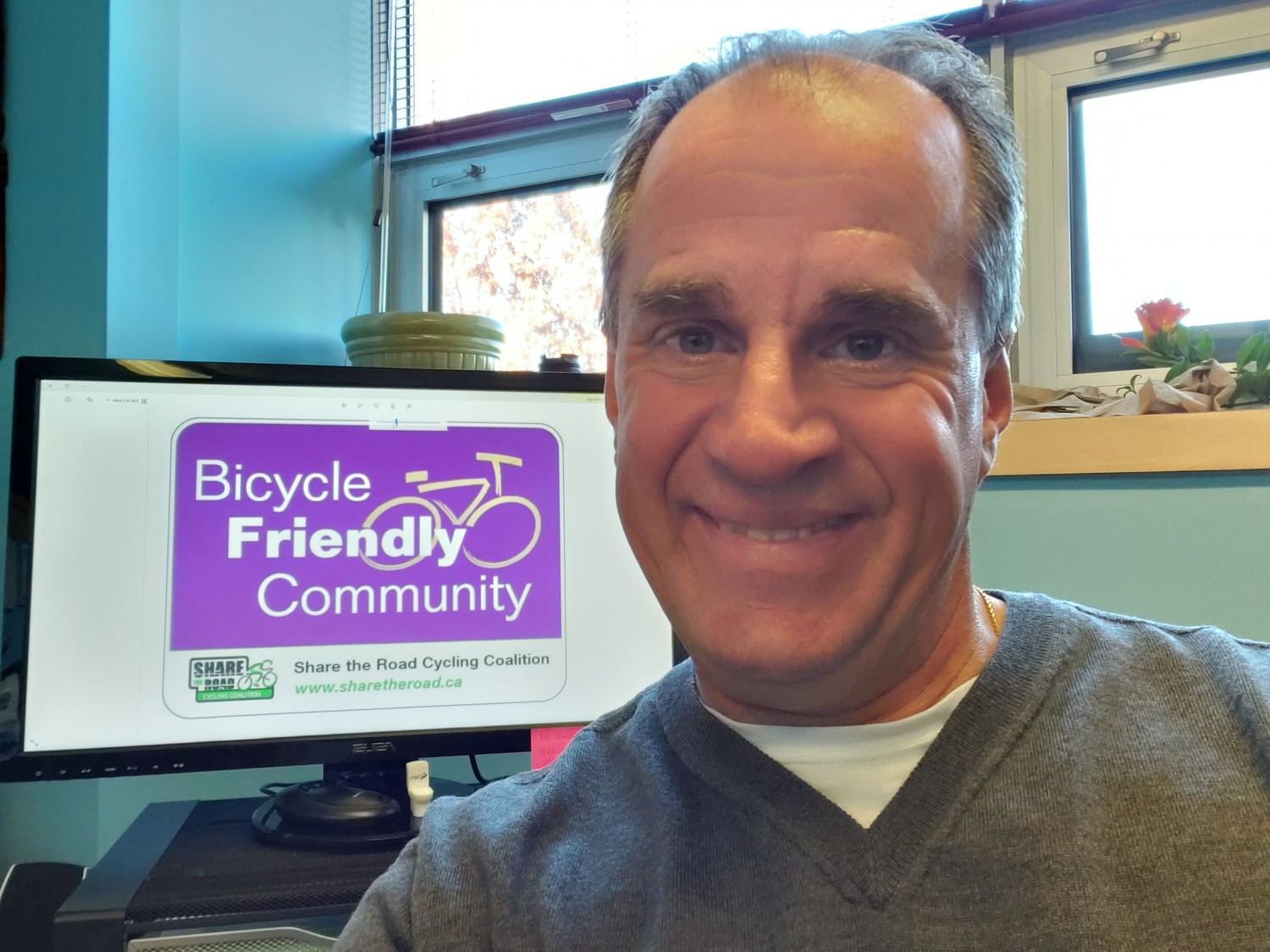 Petawawa's public works director Dave Unrau has helped lead his Town toward becoming a Bicycle-Friendly Community.
PETAWAWA, October 29, 2020: Petawawa's public works director, Dave Unrau, told a Zoom meeting full of Renfrew County municipal reprentatives and Active Transportation advocates that any community can become a Bike-Friendly Community (BFC) if the community gets involved and takes it "one bite at a time."
The fourth annual general meeting of Ottawa Valley Cycling and Active Transportation Alliance (OVCATA) was held online via Zoom due the pandemic, which enabled many to attend who might not have been able to otherwise. Elected people and staff from at least ten Renfrew County municipalities attended.
"We are thrilled that so many municipal people could attend," said OVCATA's co-chair Ish Theilheimer. Mayors or reeves of at least seven municipalities - Killaloe-Hagarty-Richards, Madawaska Valley, McNab-Braeside, North Algona Wiberforce, Pembroke, Renfrew, and Whitewater Region, took part, as well as councillors and staff from several others. "Dave Unrau gave an inspiring and information-packed presentation that laid out a do-able roadmap for everyone who attended."
Mr. Unrau emphasized that the things this town has done represent, "One municipality's dream. Every municipality has its own opportunities and challenges," but moving forward is "Very important for creating safer streets, a healthier environment, healthier people, mental health, health for seniors getting out, less greenhouse gases. The more bikes on the road and the more people we can get walking, the less pavement we have to build."
Petwawa's BFC story began with a 2011 masterplan for sidewalks and a community committee set up to look at safety and traffic connected with transportation to and from two local schools. A Safe School Travel Working Group "morphed into an Active Transportation Committee with representatives from the public, schools, the OPP the town, the district health unit and others.
"I have found that everyone I talked to will take the time to talk to you. All you have to do is reach out," he advised. "If I gain in the Town of Petawawa, that also supports Pembroke and Laurentian Valley."
In 2017, Petawawa received provincial funding that enabled the town to create an Active Transportation Plan and to upgrade the Algonquin Trail to include a twinned trail suitable for all users. The Plan calls for paved shoulders on all new road construction. Other items on its list include bike valet service at public events, educational opportunities, and encouraging people to bike to work.
"You've got to eat the elephant one bite at a time," Mr. Unrau said, acknowledging the complexity of attaining BFC status. He said Petawawa's plan focuses on five E's - education of drivers and cylcists and pedestrians, encouragement, engineering, enforcement and evaluation, with a sixth E too: equity. "We've got to make sure that whatever we build and the education around it is available for everyone."
Mr. Unrau recommends that other communities, "Start really simple. Start the conversation, engage stakeholders, inventory existing infrastructure - there is a lot to celebrate, and create a community-wide Active Transportation plan." He pointed to funding sources available including the Federation of Canadian Municipalities (FCM), the Investing in Canada Program (ICIP), and Green Communities Canada.
Mr. Unrau's talk and presentation are available online here.
At the meeting, Ottawa Valley Cycling and Active Transportation Alliance elected four directors for two-year terms: Debbie Fiebig, Ron Moss, Debbie Roach-MacDonald, and Ish Theilheimer.